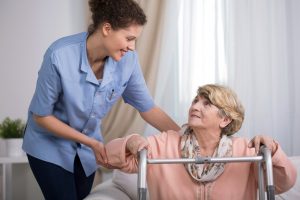 Success, for any business, depends on numerous factors. When you're talking about a home care franchise, it's essential that you have a keen business sense, take advice well, and are willing to follow specific rules and expectations as set forth by the franchise company.
Another important ingredient when building a franchise is to make sure you have adequate finances in reserves. You may have plenty of money to purchase this franchise out right, but if you use up all of your savings to do it, you are going to struggle.
That's because you won't receive revenue for at least a few months as you establish yourself, get clients, and begin receiving payments. Accounts Receivable may have a two or even an eight-week rollover period where you have to wait for reimbursement for services provided, but you still have to pay your home care aides and other employees as well as your lease and other operating expenses in the meantime.
However, as important as these factors are to consider when you establish a home care franchise, it's not the most important one.
It all comes down to the company you choose.
There's an old phrase that goes, 'You are defined by the company you keep.' In other words, a person who hangs around with highly respectable, professional, financially secure people have a tendency to become highly respectable, professional, and financially secure.
On the flip side of the coin, a person who hangs around with criminals may tend to become involved in some type of crime. Even if they don't, however, they will be associated with it.
The same holds true when it comes to business. If you choose a franchise company that has a negative reputation, that doesn't really care about its franchisees once they sign on the dotted line, you could be in for a rough ride.
That's why it is essential you choose a franchise company that takes a vested interest in the success of its franchisees. Yes, a company can survive for quite a long time by treating its franchisees as an afterthought, but eventually that type of reputation will catch up with it.
Spend time vetting the company.
When you investigate the franchise company, speak to franchisees, and find out what kind of support the company offers, even after you have given your payment and sign the contracts, that will tell you a lot about what you can expect in the future from it.
When you choose a quality franchise company, you will be immediately taking a positive step forward with your new home care franchise opportunity.
If you have questions about buying a franchise with Golden Heart Senior Care Franchise, please contact our office at 1-800-601-2792, or check out our form at https://goldenheartfranchise.com/apply-now/.