Remote and In-Person Training for Senior Care Franchise Owners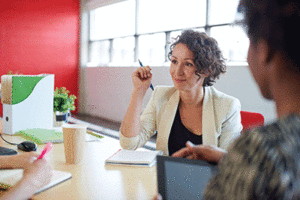 You don't need to have any experience to own an in-home care franchise with Golden Heart Senior Care. What you do need to have is the determination to learn everything it takes to run an efficient operation. Our outstanding training program is broken into highly developed sections, designed to help new franchise owners absorb as much information as possible before they open for business.
Virtual and in-person business development training is performed by Golden Heart Senior Care president Craig Bass, who has nearly 30 years of business experience, while Golden Heart Senior Vice President of Operations Golden Kennedy, with decades of experience in the field of senior in-home care, conducts training related to working with caregivers and clients.
At-Home Pre-Training for Your Senior Home Care Franchise
FAST-Start Training Modules
Online and telephonic training courses that cover everything new franchise owners need to begin their business operation, including:


Setting up a business entity

Establishing bank accounts

Purchasing insurance

Hiring caregivers

Licensing

And more!
Learn more about our Pre-Training!
Pre-Training Webinars and Calls
During this portion, franchise owners learn about:
The creation of their business website
Pricing their services
Establishing and managing referral pipelines
How to perform local competitive analysis
How to set up their office, email and phones
Coordinating vendor relationships
You'll get some homework assignments during this portion of training!

In-Home Care Franchise Software Training
The senior in-home care experts at Golden Heart Senior Care developed a software program called SMARTcare, to ease the administration of regular tasks such as employee management, client coordination and billing, along with reporting and planning tasks. Our franchise owners use this purpose-built program to conveniently manage their businesses and communicate with employees and clients.
During the webinar training on the SMARTcare software, new franchise owners learn how the software helps facilitate their day-to-day operations and long-term growth. The SMARTcare software is invaluable in saving time and hassle when managing an in-home care franchise.
Learn more about our software capabilities!
All about SMARTcare
Personalized care coordination
Establish a unique care plan for each client with up to 10,000 service options
Manage care schedules and appointments, track clients' favorite caregivers
Immediate access to any client's daily care plan
Easy employee management
Accuracy and efficiency for processing payroll
Track skills, licenses, education and performance history of each staff member
GPS tracking clock-in system indicates when a caregiver arrives and departs a client's home
Seamless communication
A portal for caregiver reports to provide records and transparency
24/7 client/family access for daily care plan, questions and payments
Eases back-and-forth between business owner and caregiver
Accurate record-keeping
Accuracy and efficiency for billing (including GPS time-stamp)
Documented record of service for insurance and tax purposes
Effective development tools
Management and strategic planning
Referral source management
Easy report generation
On-site training for your in-home care franchise
The final portion of new franchise owner training takes place over three intensive days at our training center in Sun City, Arizona, or our headquarters in Frisco, Texas. During these three days, Golden Heart Senior Care franchise owners dig deep into the finer details and requirements of owning and operating their business. Each training day features eight hours of classroom learning.
Read about what's covered during our three-day training!
Day 1: Startup and Business Development
Utilizing a client lead service
Establishing referral networks
Utilizing Social Media
Advertising and marketing
Day 2: Caregiver Management
Recruiting caregivers
Training and retraining
Human resources policies and operations
Regulatory requirements
Payroll rules and regulations
Day 3: Client Engagement
New client engagement and onboarding
Defining and executing services
Ensuring quality care
Client operations and policies
Elder care regulatory requirements
Compassionate care and business growth can co-exist!
Find out how, with our senior in-home care franchise program!