Grow a business and help your neighbors with an in-home care franchise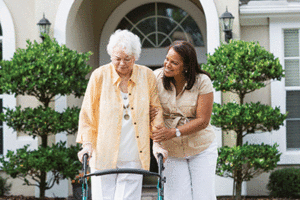 The demand for in-home care services for seniors is growing at a rapid rate and showing no signs of slowing. It's an exciting time to be in the home care industry and there's still room for growth. The Golden Heart Senior Care franchise opportunity offers investors a way to support the health of their communities by providing services while also owning a business poised for long-term growth.

The senior in-home care franchise opportunity through Golden Heart Senior Care is your chance to own a business that touches on some of the most critical aspects of financial and sociological changes in the U.S. today.
As people live longer, most desire to continue being largely independent even if they can no longer complete certain common household chores or personal grooming tasks. Golden Heart Senior Care franchise owners support these individuals by connecting them with affordable care and qualified caregivers that can help with a multitude of non-medical tasks.
Companion Care:
Attention from a friendly and caring companion provides comfort and a feeling of security, improving and maintaining long-term mental health.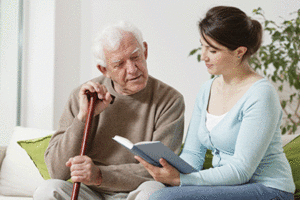 Home Helper Services:
Opening mail, changing the channel, answering the phone — whatever we can do to make life a little easier.
Bathing and Grooming:
These crucial elements of personal care improve a client's mood and overall wellness.
Meal Preparation:
Special attention is paid toward client taste preferences, while emphasizing proper nutrition.
Incontinence Issues:
Removing this burden from family members restores a client's dignity.
Alzheimer's and Dementia Care:
We provide specialized memory care services for those suffering from these devastating illnesses.
Housekeeping and Laundry:
When it comes to cleaning, the word "light" isn't in our vocabulary.
Medication Reminders:
Medication adherence is incredibly important for seniors, and we can help keep them on schedule.
Sleep-Over Attendant Care:
For those who require overnight care, we offer this extended service.
Respite Care:
An often overlooked, but incredibly important service, respite care provides a break for family caregivers.
Transport to Medical Appointments:
No senior should miss a doctor appointment because they don't have a ride. We get them there safely.
This list provides a snapshot of the in-home care services that Golden Heart Senior Care franchise owners provide to clients. When we get a request for care, we perform an assessment to determine the types and intensity of services needed. Then we craft a custom care plan, which could range from just a few hours to around-the-clock care.
Lines of revenue within our in-home care franchise
Through the Golden Heart Senior Care in-home care franchise program, franchise owners will also provide ancillary services to complement their core offerings. These services include supplemental staffing services, assisted living placement assistance and technology installation. Each provides a source of direct revenue or a pathway toward expanded services.


Supplemental Staffing
Golden Heart Senior Care franchise owners always have caregivers available to quickly respond to client requests for assistance. Because of this, each of our locations has a surplus capacity of caregivers at any given time. Franchise owners build relationships with local nursing homes, assisted living facilities and other agencies to provide fill-in staffing as needed.
Many of these companies no longer want the additional management that comes with employing caregivers. Others may find staffing shortages due to attrition or call-offs. Whatever the case, they rely on Golden Heart Senior Care to assist them in filling out their workforces with high-quality, vetted caregivers. Supplemental staffing services can enhance franchise owner revenue and encourage employee loyalty, as these hourly wage caregivers are more likely to remain committed to an agency that connects them with steady work.

Assisted Living Placement
Many seniors eventually need to move from their home to an assisted living facility. We want our clients to be in an environment that's most appropriate for their needs, so we help find the right place for them. Golden Heart in-home care franchise owners develop local industry connections to create a referral pipeline that mutually benefits clients, the facility and the Golden Heart franchise owner. At the same time, many people who contact us for assisted living placement services are surprised to find they can get the care they need right in the comfort of their own home, for much less than what a live-in facility would cost.

Technology Services
Golden Heart Senior Care franchise owners have the ability to offer the Phillips Lifeline technology, which provides clients with an emergency response service to assist them in case of a fall. This offering is not a central source of revenue, but acts as a pathway toward making potential client connections.
Compassionate care and business growth can co-exist!
Find out how, with our senior in-home care franchise program!