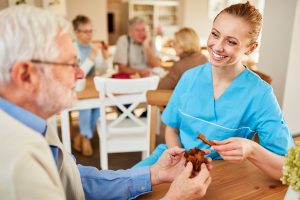 How much do you truly appreciate and understand when it comes to home care? You might be looking at a home care franchise for yourself as merely a business venture, but no matter your motivation, it's personal to those who may rely on you in your community.
You may be one of those people who has recognized the value in home care for quite some time. You may have a personal experience with it. Maybe your elderly mother dependent on you for support. You couldn't imagine being in her situation, worrying about the future, wondering what would happen if you weren't around to help her.
You start thinking about other seniors, especially those who don't have any family close by. You know a few of them, perhaps. They might be close friends of your mother's or even you.
You start thinking about these things and wonder what could they do if they needed help like your mother did, but there simply wasn't anybody available to support them. That's a great launching point to begin looking into a home care franchise.
What can this opportunity truly offer you?
That's one of the most fundamental and essential components of any long-term successful endeavor in business: passion. If you don't have a sincere desire to help aging seniors and disabled adults, why are you even looking into a home care franchise in the first place?
Yes, it's a great business opportunity, but it's going to be long hours, difficult phone calls, and challenges you can't even anticipate right now. It's going to be angry, hostile, belligerent family members deriding you or one of the aides who works for you. It's going to be desperate people who feel they are trapped in a corner and have nowhere else to turn.
It is going to be stressful, but it's also going to be incredibly rewarding. You will appreciate the fact seniors and disabled adults throughout your community have an option when they need support.
It's also a growing business opportunity, which means you will be able to make money with this endeavor, so long as you choose the right franchise company.
At the end of the day, the most successful home care franchisees go home completely thrilled and appreciative they've been able to help those during the darkest times of their life: when they need assistance the most.
There are rewards that span far beyond financial when you take on the responsibility of a quality home care franchise.
If you have questions about franchise opportunities with Golden Heart Senior Care Franchise, please contact our office at 1-800-601-2792, or check out our form at https://goldenheartfranchise.com/apply-now/.