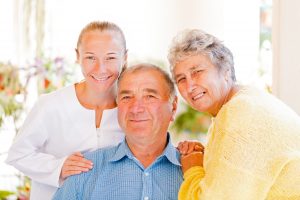 Starting any type of business endeavor is going to be wrought with anxiety, doubt, and possibly even fear. When you have this incredible opportunity standing right before you to own a home care franchise, you might have more than enough financial resources, but you may doubt your business acumen, managerial experience, or ability to actually pull this off.
The first thing you should do is try to cast aside all doubt.
For most of us, though, it's just not practical or reasonable to cast out all doubt, but the main doubts that seem to focus on your ability to do this should be pushed aside. That's because if you have a true passion for helping people in need, have the adequate financial resources to make this work, there's really no reason it won't be successful, so long as you choose a quality franchise company.
Currently, the home care industry is the number one job creator in the country. That's because demand is growing. The baby boomer generation is retiring and, as a result, that means more seniors require assistance with mobility, health issues, and more.
At the same time, increasing numbers of aging seniors would prefer to remain at home as opposed to heading off to some facility, nursing home, or other option. That desire to 'age in place' is helping drive the home care sector even more.
How do you choose a quality home care company?
You look at their reputation. There are numerous ways to check out a company's reputation. You can look for reviews online, ask people who relied on their services in the past, if you know any of them, or contact franchisees directly.
When you choose a quality company, you should be able to find a number of home care franchise owners who are more than willing to help you out, give you some advice, and even tell you their direct experience with the company itself.
The question about hiring family.
Because some people doubt their abilities to make this work, they lean on family members, like a spouse, sibling, or even an adult child to help. However, it's often best to depend on people with real experience, if these family members do not have the kind of experience needed to make this a success.
Early on, it may be best to simply focus on hiring professionals for their merits rather than family members for their need. When you can avoid that common trap, and when you can overcome some of your doubts, you will be in a great position to make this home care franchise work.
If you have questions about franchise opportunities with Golden Heart Senior Care Franchise, please contact our office at 1-800-601-2792, or check out our form at https://goldenheartfranchise.com/apply-now/.