Home care is currently the number one job creator in the country. That's because demand is increasing. The baby boomer generation (men and women born shortly after World War II and through the mid-1960s) is now retiring. That is placing increased demand on healthcare and home care.
If you have a genuine passion and desire to help people in need, you could very well be a wonderful home care agency owner. There are several ways to go about providing these types of services to elderly and disabled clients.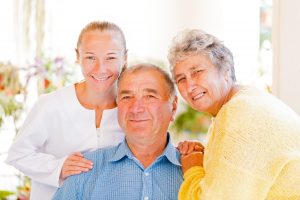 You can start an agency from scratch or you can purchase a franchise. A home care franchise offers dedicated, compassionate individuals a wonderful chance to build a business and thrive. But it's not only that which makes home care franchises an incredible benefit to a hard-working individual.
Below are a few key benefits you may wish to consider if you're tossing around the idea of becoming your own boss, owning your own business, and helping elderly and disabled people in need.
Critical Benefit #1: You are in charge.
This simple statement isn't about power, but about opportunity. If you have seen poor managers, bosses, and business owners in the past and felt you could have done so much better, this is your chance to show what you're made of.
When you're in charge of your own business, you get to decide its growth potential. Keep in mind, though, that you will have to adhere to certain rules and conditions set forth by the franchise company.
Critical Benefit #2: You will be able to help people in need.
Right there in your community, the place you may have lived most of your life, there are hundreds, possibly even thousands of people in need. As the federal government has placed increasing pressure on hospitals to reduce their readmission rates, they have discovered the true value home care offers, too.
More seniors also prefer to 'age in place' these days. You will have that opportunity to help them and provide the support they need to remain home.
Critical Benefit #3: Growth opportunities.
You won't be limited to just one franchise. As you get up and running, market your business, attract clients, and become more successful, you will have the chance to expand and grow.
By growing, you will not only be able to help more people, but you will also increase your earning potential, which is one of the most powerful and motivating factors for small business owners.